The University of Miami presents Becomings, a Master of Fine Arts exhibition by Elizabeth Guignino. Becomings features a cohesive ceramic installation consisting of numerous gestural vessels and haphazardly toppled wooden pedestals. The vessels are in essence the artist's surrogate self-portraiture in the moments of creation. Once they are placed within the display setting, the intent is that they become projections of the audience's experience and their own psychological state.  Each vessel has a unique posture and implied movement. Through form, gesture, and the physical manipulation of the vessels in the space. Becomings is able spark the imagination of the viewer as they relate to the active playfulness of what they see through emotion and memory. Ultimately, what results is an amalgamation of intuitive anthropomorphic vessel and intermediate space into which the artist has asked the viewer to pour themselves. 

View Elizabeth's virtual exhibition here: becomingsvirtual.com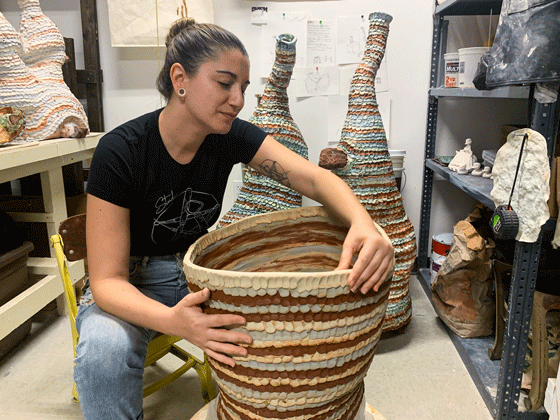 Elizabeth Guignino is a New England born ceramic artist currently based in Miami, Florida. She obtained her BA in Ceramics from Central Connecticut State University in 2016. After graduating from Central Connecticut State University, she worked under Vicente Garcia as both the University Ceramics Technician and as his apprentice in his personal studio. She learned both her love of teaching and studio problem solving from him and her time there. Elizabeth was accepted into the MFA program at the University of Miami in 2017. During her time at the University of Miami, she has continued to foster her love of teaching as the instructor for Introduction to Wheel Throwing. 

While in the MFA program, Elizabeth has shown work in Art Basel Miami at "Intermedial Bodies 2018," Miami, FL and "New Works: UMFA 2019," Miami, FL. She also participated in shows at The Clay Studio, both the "Graduate Student Biennial: Focus on Walt Whitman 2019," Philadelphia, PA and "Small Favors XV: Expanding the Field 2020," Philadelphia, PA.  She also spends her summers as an instructor at The Ceramic League of Miami teaching both Advanced Crystalline Glazing and Summer Clay Camp. She has twice received the Jose Bernardo Ceramic Award through participation in student juried shows at the University of Miami, and was awarded the Summer MFA Fellowship Award in 2019 from the University of Miami College of Arts and Sciences, Coral Gables, FL. She used this grant to travel to The Ghost Ranch in New Mexico where she participated in a summer ceramic residency in the heart of the famous Georgia O'Keeffe landscape. Elizabeth anticipates her MFA in May 2020 with the completion of her thesis exhibition, Becomings.